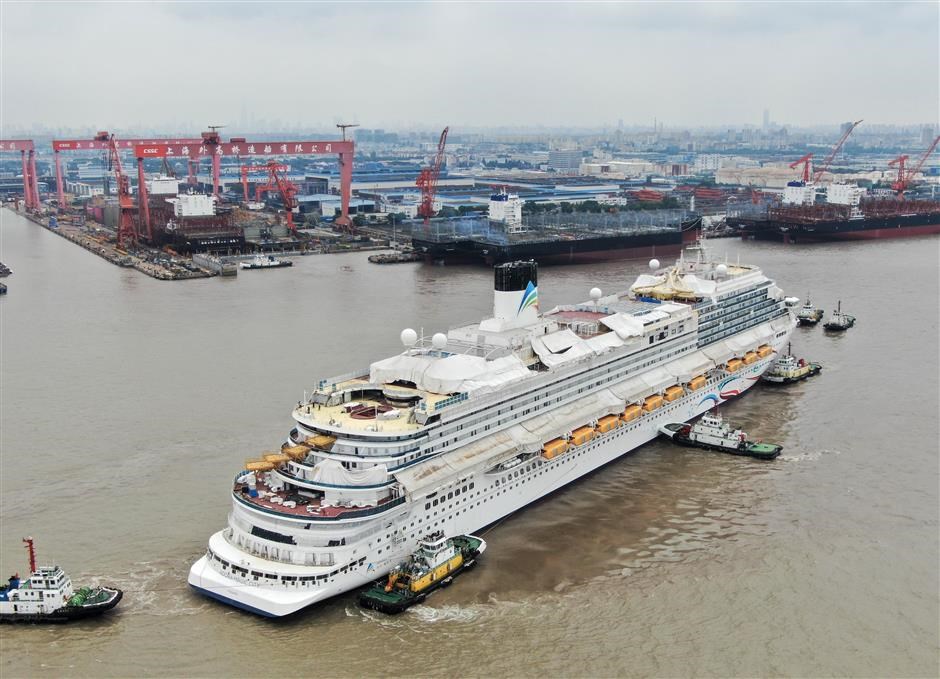 Decorated with ribbons featuring the pattern of the Dunhuang Flying Apsaras, China's first domestically produced large cruise ship, the "Adora Magic City," undocked at the No. 2 Dock of Shanghai Waigaoqiao Shipbuilding Co Ltd in the Pudong New Area on Tuesday for mooring tests and sea trials.
The cruise ship measures 323.6 meters in length and 37.2 meters in width with a gross tonnage of 135,500 tons.
Starting from the early morning of June 1, the "Adora Magic City" began a six-day floating, displacement and undocking operation. During this period, the weight, center of gravity and stability of the entire ship were measured through hull inclination tests.
For large cruise ships, small deviations in empty ship weight can lead to significant losses in deadweight tons, while deviations in center of gravity position can have a significant impact on stability, safety and passenger comfort.
Waigaoqiao Shipbuilding, a subsidiary of China State Shipbuilding Corp, has mastered the key technology of cruise ship weight and center of gravity control by introducing digestion and independent innovation.
Through the inclination tests, the design and development results were once again verified, which were perfect with controllable weight and center of gravity data.
The "Adora Magic City" is equipped with a total of 20 super-large lifeboats, with a single rated crew of 314 people, and can accommodate over 90 percent of the maximum life-saving capacity of the ship.
The lifeboats also underwent unhooking, cruising and retrieval tests one by one to verify its performance under normal and emergency conditions.
A high-pressure water gun was used to flush and inspect the sealing of the gangway doors.
To date, over 93 percent of its construction and over 85 percent of its interior work have been completed.
According to the plan, two trial voyages will be conducted in July and August to verify various functions, such as power and propulsion systems, fire protection, fire alarm, lifesaving, communications and navigation.
The cabin and public area interior decoration will be finished and the whole ship will be delivered by the end of the year.