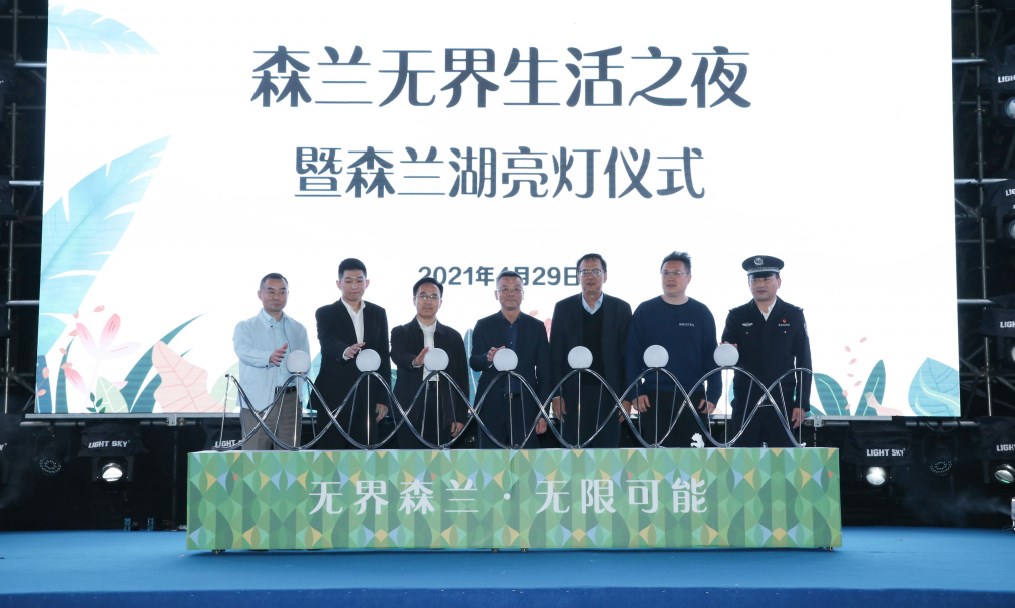 Senlan Boundless Life Night and Senlan Lake Lighting Ceremony were held in Waigaoqiao on April 29. Senlan Lake, located in the Senlan area of Waigaoqiao, was also officially unveiled, marking a new stage in promoting the integration of industry and city in the Pudong New Area.
As an important part of the Shanghai Free Trade Zone in promoting industry-city integration, the Senlan area shoulders the historical mission of being an early and pilot area for innovation and practice in the FTZ.
It mainly consists of three sections: the Senlan Commercial and Business District, the Senlan Vitality Waterfront Green Zone and the Senlan International Community, covering six core functions of industry-leading, commercial service, cultural exchange, ecological residence, sports & leisure and gathering of headquarters.
The Commercial and Business District has 450,000 square meters of ecological business area, 200,000 square meters of commercial entertainment area and 100,000 square meters of hotel supporting area, and the Senlan International Community has a construction area of 1 million square meters.
The Waigaoqiao Bonded Area will take the Selan Boundless Life Night as an opportunity to launch the "Selan + X" all-round urban services, providing office, business, commerce, and ecological services for the different needs of enterprises joining the Global Operators Program of the Shanghai FTZ.
It also provides customized services, rental support, more favorable parking services, free access to Senlan Greenland, Peony Park and Decathlon sports field for fitness and corporate group activities, creating the best international and highest standard business environment model for enterprises to grow.